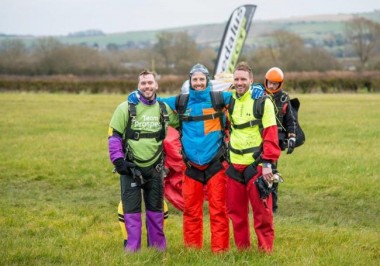 To sponsor/donate to our chosen charity the Prospect Hospice please clink on the link below.
FOUR brothers will be lacing up their running trainers in memory of their late father next month all in aid of raising money for Prospect Hospice.
Well-known Royal Wootton Bassett businessman Alan Hawkins died in 2015 after a battle with cancer and in his final weeks, he was cared for by the Wroughton-based hospice.
His sons were so grateful for the help they provided to the family that they decided to conquer their fears and leapt from the sky back in 2016 during the Parachute4Prospect appeal.
Now, Steve, Chris and Kevin and Paul, who have taken over the running of Alan Hawkins Estate Agents in the town, will be tackling the annual Prospect Hospice 10k mud run.
Steve, 44 said: "We have a personal connection through the care that dad had and, although we get a lot of approaches from other charities to support them, we are dedicated to Prospect Hospice
"We do what we can – we have talked about taking part in an overseas challenge like the Kilimanjaro Trek that happened last year, but we can't take the time away from the business, so we're pleased to be able to do an event like the Prospect 10k."
"Because dad was well known, when we do fundraisers, people are always willing to put their hands in their pockets to donate.
"We've done other events before but we've never run together so it will be good for there to be a group of us taking part."
The event, which is now in its fifth year, has become a firm favourite of local runners who like a wintry workout with lots of mud involved.
It also attracts novice runners keen to build up their early-year fitness while raising funds for Prospect Hospice.
The brothers will be joined by other family members as well as close friends Prinesh Patel, who runs The Harbour fish and chip shop next door to their Royal Wootton Bassett premises, and Pierre Huby, who works for the Royal Mail.
The team of eight have given themselves the team name Hawkins' Heroes in readiness for their fundraising run.
rospect Hospice's events and community fundraising manager Genevieve Arney added: "We've found in the past that people are looking for a running event early in the new year because they're looking to get fit again after Christmas.
"It is great to have the Hawkins brothers raising funds for us again and we would love to hear from more runners who want to join them for our fantastic, muddy run."
The Prospect Hospice 10k will be held at Stanton Park on Sunday, February 18 and has an entry fee of £15.
To sign up, visit www.prospect-hospice.net/10k